Chairman of the Management Board of Astyk-Trans JSC Sanjar ELYUBAYEV:
WE ARE AWAITING THE GROWTH OF KAZAKHSTAN'S GRAIN DELIVERIES TO IRAN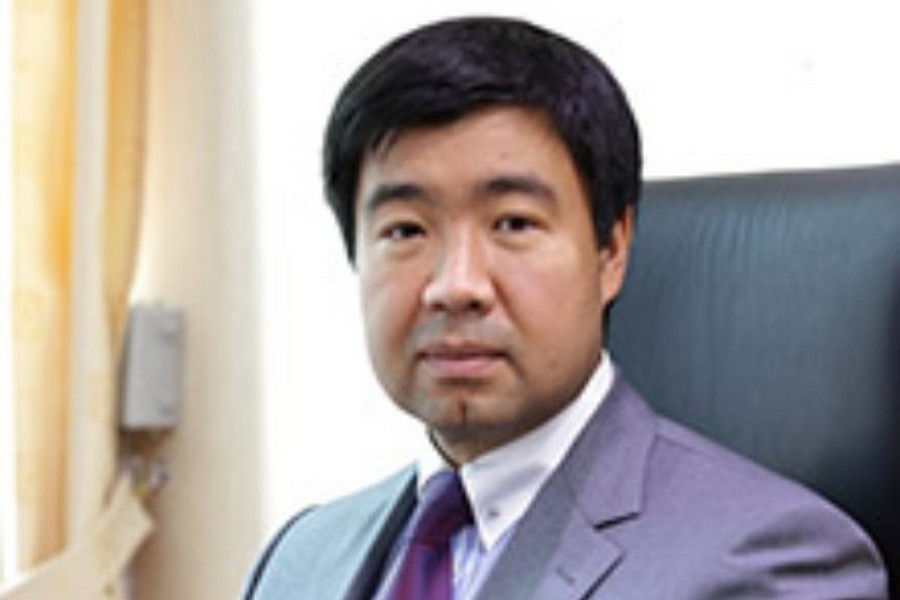 In 2019 Kazakhstan is projected to be able to export up to 10 million tonnes of grain and flour in grain equivalent. In addition to traditional destinations in the Central Asian countries, an increase in deliveries to Iran and the development of container shipping to China are expected. Chairman of the Management Board of Astyk Trans JSC Sanjar ELYUBAYEV talked in an interview with Interfax-Kazakhstan on how carriers are preparing for the new harvest season and Kazakhstan's grain subsequent exports.
- Sanjar Bakhytovich, with what results did the company wrap up the year 2018?
- In 2018 6.2 million tonnes of grain were transported by Astyk Trans' rail cars or up 22% from the volume transported in 2017, herewith 2.3 million tonnes were transported within the country, and 3.9 million tonnes of grain shipped for export. We are a system operator of grain wagons in Kazakhstan and secure more than 90% of grain transportation within the country. As for grain exports, our share is 50% in terms of grain wagons and 40% of deliveries regarding all types of rolling stock, including railcars, gondola cars, containers on railway platforms.
Traditionally, domestic transportation is a priority for us due to the existing partnership with the national rail carrier - JSC NC KTZ [Kazakhstan Temir Zholy] . Its share of our railcars is 90%, this speaks for itself.
- In Kazakhstan, the grain harvest season is looming. What plans does Astyk Trans set for the 2019-2020 marketing year?
- According to expert estimates, the volume of the new grain crop harvest in 2019 will be about 20 million tonnes. The export potential remains at the level of previous years. Taking into account production volumes, leftovers [from the previous year], the forecast of grain quality and market conditions, the volume could make up to 10 million tonnes of grain and flour in grain equivalent.
The main transportation destinations are traditional. This is, in the first instance, domestic transportation where we hold a leading position. At the same time, deliveries within the country are yielding low returns and not always of interest to other market operators.
It is also expected that the demand from shippers for deliveries to Central Asia and to the port of Aktau off the Caspian Sea will remain at the previous level at a minimum.
- How can the geography of Astyk Trans' directions change in the 2019-2020 marketing year?
- We expect the growth in deliveries to Iran through the Inche Burun border crossing. Infrastructure at the reception point is developing rapidly and the border crossing throughput itself is growing. We also see the prospects of container shipping to China. Container shipping is becoming in demand at this time, although it needs solutions regarding a number of infrastructure and logistics issues.
In the new season it is planned to increase the share of grain delivery routes at high speed in the direction of the port of Aktau, the Central Asian countries and Afghanistan that would reduce the rolling stock turnover. To do this, we will work together with the shippers, owners of elevators and government agencies, which regulate the grain cargo quality and customs clearance.
The organization of designated delivery schemes requires big responsibility on the part of all the process participants, including the shippers. They must ensure railcar timely loading, preparation of accompanying documents and timely submission of applications for railcars for their formation.
- How did Astyk Trans prepare its railcar fleet for the 2019 harvest transportation?
- Our company invests annually in new railcars procurement and upgrades to the existing fleet. In 2018 we spent 11.9 billion tenge on procurement of 721 grain wagons and carried out major repairs to extend the service life of 682 of our own grain wagons.
In 2019 the company plans to invest up to 15 billion tenge (386.51 tenge/$1) for these purposes. In the first seven months of this year we purchased 250 [grain] wagons, carried out major repairs to extend the service life of 310 wagons. The biggest investment will be during the second half of 2019.
Herewith in the past three years the cost of railcars has been growing at speed exceeding inflation several times. The railcars repair cost also is on the rise. Repair is the main item of the company expenditure and the main factor in managing the delivery cost price. Unfortunately, for the second year in a row production inflation is showing significant growth in this segment. The repair costs in general and railcar spare parts costs multiplied. In 2019 rail car side frames cost increased 42% compared to 2018. In 2018 the growth doubled compared to 2017.
It turns out that the very railcar repair process became more expensive due to a sharp increase in prices for spare parts, as well as an acute shortage of second hand spare parts and consumables. The fall of the tenge exchange rate also prompted the repair cost increase since the parts used in repairs are produced in the other countries.
Given spare parts shortages and costs and, accordingly, the increase in railcar repair costs, in the near future the company will be forced to cancel a number of discounts and to index tariffs. At the same time, the company's tariffs, even taking into account the discounts cancellation, remain the most affordable among all the operators working in Kazakhstan's grain market.
- Thus, do you expect the company's tariff policy to change in the 2019-2020 new marketing year?
- Our tariff policy principles have not changed for many years. Discounts can vary; tariffs can be indexed but no higher than industrial inflation indicators. Operating costs may also increase, but our primary goal is to provide affordable and reliable services in the market.
We are not monopolists in export shipments. As we already said, our export shipment share is 50% in terms of grain wagons and 40% in general, taking into account all rolling stock that is available for grain transportation. And here our tariff policy depends on the market. But the balanced approach is part of our tariff policy and this is what makes us different from other players. Other operators provide only export transportation and their railcar costs are always higher than our prices, they can afford to take their fleet to the neighboring more profitable markets at times of high demand. We assumed responsibility for the market state as a whole.
- What problems did Astyk Trans face in 2018-2019 in addition to the rising railcar repair costs?
- The main problem that is repeated every year is grain producers and traders' drive to take out the entire harvest in the first months after harvesting. Recent years have been particularly stressful for carriers. This is due to both crop growth and infrastructure export restrictions.
In some months the number of applications from shippers was several times more than all available logistics capacities. Shippers did not have time to ship and unload railcars on time, and to this end non-operational downtime mounted. Infrastructure restrictions did not allow [carriers] to take out the entire harvest within a short period of time. This is, first of all, the capacity limitation for loading elevators, capacity limitation for the port of Aktau, inability for the Uzbek railways to ensure fixed-cycle unloading and transit.
However, all these factors did not prevent Kazakhstan's railway workers and operators from exporting record volumes of grain and oilseeds during last year's shipping peak season. In October and November 2018, more than 1.2 million tonnes of grain per month were loaded by rail, which was an absolute record for the entire history of Kazakhstan's railways activity. In previous years the maximum traffic volume never exceeded 1 million tonnes per month. The largest shipment volume was done by our company.
It should be understood that not the number of railcars determines a delivery volume but their fixed-cycle loading, unloading, movement. The faster railcars return, the faster they will be handed over to following shippers. A grain wagon should not be a warehouse on wheels. Of course, the fleet available in Kazakhstan will further help ensure grain transportation at the level of 1.2 million tonnes a month. All grain can be transported by an even smaller fleet if there is no downtime during loading and unloading operations, as well as at border crossings.
- What innovations do you plan in order to increase the efficiency of transportation?
- All measures to step up the turnover can be implemented only in cooperation with KTZ. Together with KTZ-Freight Transportation, we organize scheduled [cargo] trains and collective shipments.
This January we launched the new project AT-Express. It envisages the implementation of direct shipping routes in export traffic to the Central Asian countries. The route capacity is 48 grain wagons with a freight rail carload weight of 70 tonnes. In addition to the railcar high-speed turnover on this route loading grace periods: four days and unloading grace periods: four days are provided for.
We also plan to provide freight forwarding services by rail, transshipment in ports and the organization of sea transportation at a single through rate.
In 2019 we have been investing in new facilities and preparing new logistics tools. Currently a mobile application is being developed, thanks to which it will be possible to submit an application, as well as to monitor railcars location.
We hope to continue cooperation with KTZ in terms of unified management of grain transportation logistics and the railcar fleet as this allows us to guarantee uninterrupted grain transportation and ensure socially significant domestic deliveries at a low cost.
- Every September, on the eve of new harvest transportation you gather the Public Council of the Grain Market Players. Please name this year's agenda.
- We will discuss transportation of Kazakhstan's 2019 grain harvest including transportation itinerary forecasts, issues of optimizing logistics and new logistics solutions, rolling stock ensuring, issues of state policy in the field of production, trade and grain and oilseeds processing.
This year, the Public Council will be held on September 11. We are inviting all interested parties to take part in its work.
- Thank you for the interview!
September, 2019
© 2022 Interfax-Kazakhstan news agency
Copying and use of these materials without reference to the source is prohibited
Archive